Posts for tag: nutrition
By Dental Depot
March 03, 2020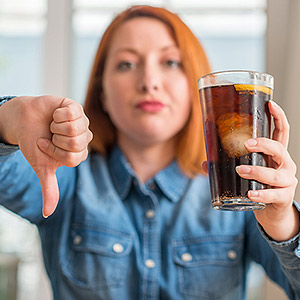 You can find some version of the ever popular kids' meal at most major fast-food restaurants. It's a neat little package: child's size portions of burgers, chicken nuggets or sides—and often a small toy or treat to boot—all tucked into its own colorful cardboard container.
The drive-thru menu board at your favorite fast-food joint gives you plenty of choices to fill out your child's meal. But you may notice something missing on many major chains' kids' menus—the mention of soft drinks as a beverage choice. You can still get one for your child's meal, but the visual cue is no more on the menu board.
None of the "Big Three"—Burger King, McDonald's or Wendy's—post soft drinks as a menu item for their kid's meals. It's the result of an effort by health advocates promoting less soda consumption by children, the leading source of calories in the average child's diet. With its high sugar content, it's believed to be a major factor in the steep rise in child obesity over the last few years.
Sodas and similar beverages are also prime suspects in the prevalence of tooth decay among children. Besides sugar, these beverages are also high in acid, which can erode tooth enamel. These two ingredients combined in soda can drastically increase your child's risk of tooth decay if they have a regular soda habit.
You can minimize this threat to their dental health by reducing their soda consumption. It's important not to create a habit of automatically including sodas with every meal, especially when dining out. Instead, choose other beverages: Water by far is the best choice, followed by regular milk. Chocolate milk and juice are high in sugar, but they're still a healthier choice than sodas due to their nutrient content.
Keeping sodas to a minimum could help benefit your child later in life by reducing their risk for heart disease, diabetes and other major health problems. It will also help them avoid tooth decay and the problems that that could cause for their current and future dental health.
If you would like more information on these and other effective practices for protecting your child against tooth decay, please contact us or schedule an appointment for a consultation.
By Dental Depot
March 29, 2019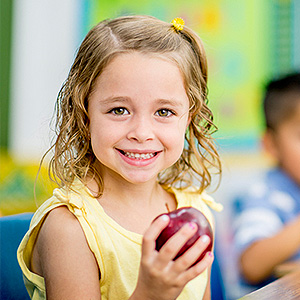 Besides daily hygiene and regular dental visits, the best thing you can do for your kids' dental health is to see that they're eating a nutritious diet. And not just at mealtime—healthy snacking also promotes healthy teeth and gums.
Healthy snack foods are quite similar to their counterparts at mealtime: fresh fruits and vegetables, whole grains and low-fat dairy. At the same time, you should avoid providing processed snacks high in sugar, salt, unhealthy fats and calories.
Managing snack choices at home is usually a simple matter of discipline and follow-through. When they're at school, however, it's a bit trickier as they may encounter snacks sold on school grounds or offered by fellow students that don't meet your definition of a healthy food. Public schools follow nutrition guidelines from the U.S. Department of Agriculture (USDA) on snacks sold on school grounds, but many dentists don't believe the standard goes far enough to protect dental health.
So, what can you do to combat these less healthy snack choices your kids may encounter at school? For one thing, you can work with your child's school officials to exceed the USDA guidelines or turn off snack vending machines right before lunch to lessen kids' temptation to skip lunch.
You can also interact with your children to better manage their schooltime snacking. But rather than issue blanket commands about what they should snack on at school, help them instead understand the difference between nutritional foods and less nutritional ones, and why it's important to choose healthy snacks for their life and health.
Finally, don't send them to school empty-handed—pack along nutritious snacks so that they won't seek out vending machines or their classmates to satisfy the munchies. You can supercharge your efforts with a little creativity (like a dash of cinnamon in a bag of unbuttered popcorn) that make your snacks fun and more enticing than other school ground options.
It's not always easy to keep your kids from unhealthy snack choices. But with a little commitment, interaction and ingenuity, you can help steer them toward snacks that are tooth-friendly.
If you would like more information on boosting your child's dental health, please contact us or schedule an appointment for a consultation. You can also learn more about this topic by reading the Dear Doctor magazine article "Snacking at School: How to Protect Your Child's Teeth and Promote Good Nutrition."
By Dental Depot
November 09, 2018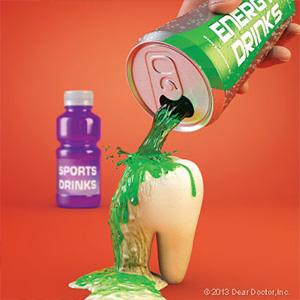 Although energy and sports drinks have different purposes, they have one thing in common: they often contain added citric and other acids to improve taste and prolong shelf life. Their high acid content can harm tooth enamel.
Although enamel is the strongest substance in the body, acid can dissolve its mineral content. And although saliva neutralizes acid after eating or drinking and helps restore lost minerals to the enamel, it may not be able to keep up if the mouth remains acidic for a prolonged period of time.
That could happen with both beverage types. While energy drinks have higher acid levels than sports drinks, both are high compared with other beverages.
A recent laboratory experiment studied the two beverages' effect on tooth enamel. The researchers submerged samples of enamel in six different beverage brands (three from each category) for fifteen minutes, and then in artificial saliva for two hours to simulate mouth conditions. They repeated this cycle four times a day for five days.
At the end of the experiment the enamel in the energy drinks lost on average 3.1 % of their structure, while the sports drink samples lost 1.5%. Although energy drinks appeared more destructive, the acid in both beverages caused enamel damage. Although there are other factors to consider in real life, the experiment results do raise concerns about both beverages' effect on dental health.
You can, however, minimize the potential harm to your enamel from energy or sports drinks. First, try other beverage choices lower in acid; water, for example, is a natural hydrator and neutral in pH. Try to only drink energy or sports beverages at mealtimes when your saliva is most active. And after drinking, rinse your mouth out with water to dilute any remaining acid.
And although it sounds counterintuitive, wait about an hour to brush your teeth after drinking one of these beverages. Your enamel can be in a softened state before saliva can re-mineralize it, so brushing earlier could remove tiny amounts of enamel minerals.
Taking these steps with energy or sports beverages could help you reduce the chances for enamel erosion. Doing so may help you avoid unnecessary damage to your teeth and overall dental health.
If you would like more information on the effect of sports and energy drinks on dental health, please contact us or schedule an appointment for a consultation. You can also learn more about this topic by reading the Dear Doctor magazine article "Think Before You Drink."