Posts for tag: gum recession
By Dental Depot
February 27, 2019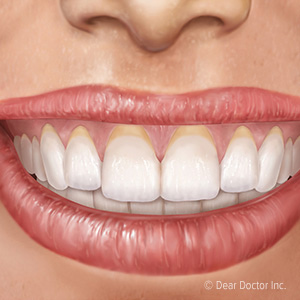 A "toothy grin" might be endearing, but not necessarily healthy. More of the teeth showing may mean your gums have pulled back or receded from the teeth. If so, it's not just your smile that suffers—the parts of teeth protected by the gums could become more susceptible to disease.
There are a number of causes for gum recession. Some people are more likely to experience it because of genetically thinner gum tissues. Over-aggressive brushing could also contribute to recession. But the most common cause by far is periodontal (gum) disease, a bacterial infection triggered by dental plaque accumulating on teeth mainly as a result of inadequate hygiene.
There are some things we can do to help heal and restore recessed gums, most importantly treating gum disease. The number one goal of treatment is to uncover and remove all dental plaque from tooth and gum surfaces, which can take several sessions and sometimes minor surgery if the infection has reached the tooth roots. But removing plaque and tartar (calcified plaque) is necessary to stop the infection and allow the gums to heal.
For mild recession, this may be enough for the gums to regain normal coverage. But in more severe cases we may need to help rejuvenate new tissue with grafting surgery. In these highly meticulous procedures a surgeon uses microscopic techniques to position and attach donated tissue to the recession site. The graft serves as a scaffold on which new tissue growth can occur.
While these treatments can be effective for reversing gum recession, they often require time, skill and expense. It's much better to try to prevent gum recession—and gum disease—in the first place. Prevention begins with daily brushing and flossing to prevent plaque buildup, as well as regular dental visits for more thorough cleanings. Be on the lookout too for any signs of a beginning gum infection like swollen, reddened or bleeding gums and see your dentist as soon as possible to minimize any damage to your gums.
Caring for your gums is equally as important as caring for your teeth. Healthy gums equal a healthy mouth—and an attractive smile.
If you would like more information on preventing gum recession, please contact us or schedule an appointment for a consultation. You can also learn more about this topic by reading the Dear Doctor magazine article "Gum Recession."
By Dental Depot
September 30, 2018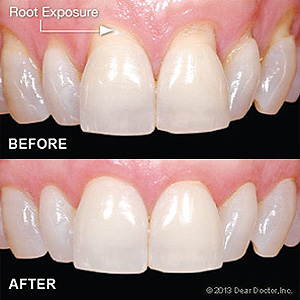 If you've suddenly noticed your smile looking more "toothy," you may have a problem with your gums. They may have lost their normal attachment to your tooth and begun to shrink back — or recede.
Millions of people have some form of gum recession. The most common cause is periodontal (gum) disease, but it's not the only one. You may be more susceptible to gum recession because of heredity — you have thin gum tissues passed down to you from your parents. You may also be brushing too hard and too often and have damaged your gums.
Healthy gums play an important role in dental health. The crown, the tooth's visible part, is covered with a hard, protective shell called enamel. As the enamel ends near where the root begins, the gums take over, forming a tight band around the tooth to protect the roots from bacteria and acid.
Receding gums expose these areas of the tooth meant to be covered. This can lead to another tell-tale sign — tooth sensitivity. You begin to notice pain and discomfort while you consume hot or cold foods. And because it leaves your teeth and gums looking much less attractive, it can affect your confidence to smile.
Fortunately, though, we can help restore receded gums. If you have gum disease, it's imperative we treat it as early as possible. We do this by removing plaque, a thin film of bacteria and food particles that triggers the infection. We use special techniques and hand instruments to remove plaque and calculus (hardened plaque deposits) from all tooth surfaces including along the roots.
Gum disease treatment can help stop and even reverse gum recession. In some cases, though, the recession may have advanced too far. If so, we may need to consider surgically grafting donor tissue to the recessed areas. Depending on the site and extent of recession, this can be a very involved procedure requiring microscopic techniques.
The best approach, though, is to take care of your gums now. Daily brushing and flossing removes harmful plaque; regular dental visits take cleaning a step further and also give us an opportunity to detect disease early. By looking out for your gums now you might be able to avoid gum recession in the future.
If you would like more information on diagnosing and treating gum recession, please contact us or schedule an appointment for a consultation.
By Dental Depot
August 01, 2018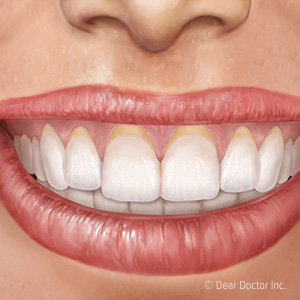 While gum recession is a common occurrence related to aging, it's not just an "old person's disease." It can happen to anyone, even someone with a relatively healthy mouth. And this detachment and shrinking back of the gums from the teeth may not be a minor problem—your dental health is definitely at risk.
Here then are 4 things you should know about gum recession, and what you can do about it.
The most common cause: periodontal (gum) disease. A bacterial infection triggered by built-up dental plaque, gum disease weakens the gums' attachment to teeth that leads to recession. To help prevent it, clean away plaque with daily brushing and flossing and visit a dentist regularly for more thorough plaque removal. If you already have gum disease, prompt treatment could stop the infection and reduce any resulting damage including recession.
…But not the only one. There are other factors that contribute to recession besides disease. In fact, it could be the result of "too much of a good thing"—brushing too hard and too frequently can damage the gums and lead to recession. You might also be more susceptible to recession if you've inherited thin gum tissues from your parents. Thin gums are at increased risk of recession from both disease and over-aggressive hygiene.
Best outcomes result from treating gum disease and/or recession early. The earlier we detect and treat a gum problem, the better the outcome. See your dentist as soon as possible if you see abnormalities like swollen or bleeding gums or teeth that appear larger than before. Depending on your condition there are a number of treatment options like plaque removal or techniques to protect exposed teeth and improve appearance.
Grafting surgery could regenerate lost gum tissue. While with mild cases of gum recession the gums may respond well to treatment and actually rejuvenate on their own, that might not be possible with advanced recession. We may, however, still be able to restore lost tissue through grafting. Using one of a number of techniques, a graft of donor tissue can foster new replacement growth. It's a meticulous micro-surgical approach, but it could be a viable answer to extreme gum recession.
If you would like more information on gum recession, please contact us or schedule an appointment for a consultation. You can also learn more about this topic by reading the Dear Doctor magazine article "Gum Recession."